How do I know if my property has asbestos?
Whilst the use of asbestos and asbestos materials was banned in Australia in 2003, many buildings constructed before 1990's are likely to contain asbestos or asbestos products. In fact, if your home was built before 1990, the chances are it contains asbestos in one of its many forms. An inspection can confirm the presence of asbestos on your property.
Why remove asbestos? 
Exposure to asbestos can be harmful to people, animals and the environment. Long term exposure can cause serious health issues, but even short term exposure, such as during removal, has risks. That's why, when it comes to the identification, inspection and removal of asbestos and asbestos contaminated soil, it's best to trust a licenced asbestos removalist to handle this hazardous material safely.
Choose Allareas Earthmoving for safe and effective asbestos removal.
Allareas Earthmoving holds a Restricted Asbestos Licence, and offers professional, safe and efficient removal and disposal of asbestos based materials according to Work Health & Safety (General) Regulations 2022.
We also inspect and handle the removal of asbestos contaminated soil.
From assessing the effected area, through to preparing the site and disposing of all asbestos materials, Allareas Earthmoving carry out all asbestos removal projects with the utmost diligence and care.
For asbestos removal and disposal in the South West, Allareas Earthmoving have you covered, whether it be for smaller, private residential jobs or larger scale commercial projects.
Allareas Earthmoving's asbestos removal services in the South West include: 
Restricted asbestos removal

Removal of asbestos fencing

Removal of asbestos roof sheeting

Removal of asbestos wall cladding

Removal of asbestos ceiling sheeting

Removal of asbestos eave sheeting

Water or flue pipes

Thermal boards around fireplaces

Removal of asbestos vinyl floor tiles

Excavation of asbestos contaminated soil and reinstatement works
Think you have asbestos on your property? Talk to the Allareas Earthmoving team about asbestos inspection and removal in Bunbury, Busselton, Dunsborough, Margaret River, Yallingup, surrounding areas and Perth.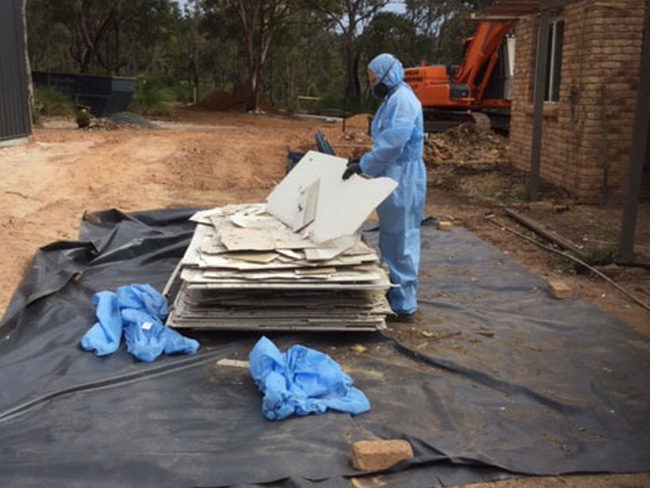 PO Box 325
Yallingup
WA 6282


  REDUCING OUR CARBON FOOTPRINT
 © 2020 ALLAREAS EARTHMOVING. ALL RIGHTS RESERVED